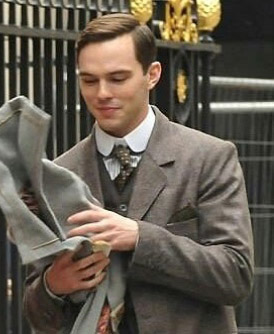 This is a Casting Call for:
male actor for the role of a young JRR Tolkien
playing age: 18-24
ethnicity: White
British
based in/around London, GB
speaking fluent ENGLISH
must be tall and slim with hair long enough to part (ref. photo)
Production Details:
type: shoot
payment: £125 a day plus travel expenses
For reconstruction scenes (no dialogue) for a documentary called "A Hobbit, A Wardrobe & A Great War". 
Wardrobe will be provided.
Shooting in Oxford on Sunday 5th November.
Shooting in Hastings on Sunday 5th November & in Oxford on Thursday 8th November.
Ideally someone London based as can access both locations easily from there.  
Please send your application in ENGLISH only and include a link to your showreel.
| | |
| --- | --- |
| Casting Location: | London, GB |
| Closing Date: | Sat 20th October, 2018 |
| Application: | You must log in to apply for this casting. |
PLEASE NOTE:
1.Where a language is described as "MOTHER TONGUE" or "NATIVE SPEAKER" this is taken to mean that an actor speaking this language, regardless of their origins or nationality, will not be linguistically distinguishable from someone brought up and schooled in this language.
2.Unless otherwise stated, jobs are open to any ethnicity.
3.If the casting says an actor should be resident in a certain location, this means that NO TRAVEL OR ACCOMMODATION will be paid.
4.In some cases unsuitable candidates may be filtered out as per the production needs.
5.Whilst we take all reasonable precautions to verify castings, we do not take any responsibility if this isn't the case and you as an actor are solely responsible for making sure a casting call is genuine and above board when you apply. Make sure you have read our article on this matter here: Don't Get Scammed.
6.Finally, if you have any comments on the casting, then please contact us and let us know.